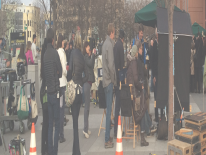 Welcome to the DC Film, Television and Entertainment Rebate Fund page. The current incentives we offer is a Production Rebate and an Infrastructure Rebate. We welcome all productions to apply. To ensure a successful production in the District we recommend everyone review the
FAQ (Frequently asked questions)
section. Once finished following the following steps to ensure success.
Once one the inquiry is processed, a member of our office will contact you. They will oftern ask you questions about your project and offer up resouces from our office.

From here the member will send you the Application for the Rebate.

Once accepted into the DC Film, Television and Entertainment Rebate Fund Program you will have a member of our staff will help guide you through the rebate.