LaToya Foster is the Director of the Office of Cable Television, Film, Music, and Entertainment (OCTFME). In her role, Director Foster serves as the DC Film Commissioner, and oversees the Comcast, Verizon, and RCN District of Columbia Cable Franchise agreements.
Director Foster is a seasoned communications veteran, with over two decades of experience in television, radio, and communications. Prior to her appointment, Director Foster served as the Director of the Mayor's Office of Communications, as well as chief spokesperson for the Bowser Administration. In this role she managed the daily operations for the Executive Offi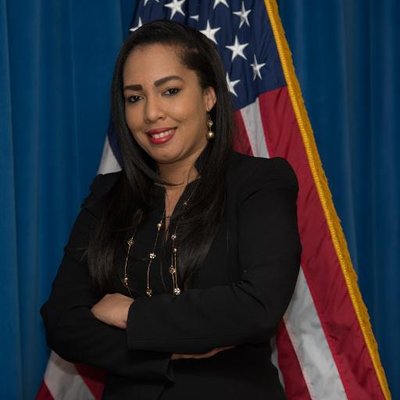 ce of the Mayor and engagements for nearly 100 District government agency communications departments, including editing and reviewing internal and external correspondence such as media advisories, press releases, statements, graphics, and social media posts.  She also coordinated media interviews for Mayor Bowser and senior government officials.
Prior to joining the Bowser Administration, Director Foster served as the Director of Communications and chief spokesperson for the District's late Mayor-for-Life, four term Mayor Marion S. Barry, Jr. In that capacity, Director Foster handled daily communications tasks, as well as assisted Mayor Barry in chronicling his life and career for his award-winning autobiography.
For several years, Director Foster served as host and executive producer of "In The Know TV," a weekly, televised public affairs program that aired on Washington's ABC affiliate WJLA and sister cable station, News 8. In that role, Director Foster interviewed future President Barack Obama and President Joseph Biden, among other world leaders. She also created "This Is Your Moment," a weekly televised talk show that aired on The Word Network, the largest African American religious network in the world. As the creator, host and producer, Director Foster interviewed Grammy-award winning artists, business leaders, political figures, and professional athletes.
Director Foster began her broadcast career in radio, where she launched and led several programs, including "Live at Five," "The Washington Insider," and the "Power Block" that aired on Radio One, the largest urban broadcasting company in the world. She also launched "Voice of the City," which premiered on the OCTFME's newly established DC Radio—WHUR 96.3 HD4 in 2017.
Director Foster has provided commentary on MSNBC, Fox News, Black Entertainment Television, TV One, Radio One. She's also written for national sites and publications, including Fox News, Upscale Magazine, The Source, and Sister 2 Sister Magazine.
In her spare time, Director Foster has volunteered countless hours to promoting civic engagement, increasing awareness to adoption and foster care issues, and mentoring youth.