The District of Columbia is a film-friendly city with the resources to support any size production. Explore the resources below for more information on filming in DC.
Explore the resources below for networking opportunities.
DC Film Alliance/DC Shorts
The DC Film Alliance (DCFA) serves and strengthens the media arts in the greater Washington DC region by bringing together filmmakers and the public to participate in diverse film, video, television and multimedia events.
Phone: (202) 393-4266
Email: [email protected]
http://dcshorts.com
Women in Film and Video of Washington, DC
Women in Film and Video (WIFV) of Washington, DC is a nonprofit organization dedicated to advancing the professional development and achievement for women working in all areas of film, television, video, multimedia and related disciplines.
Phone: (202) 429-9438
http://www.wifv.org
TIVA-DC
Television, Internet and Video Association of DC (TIVA-DC), a local not-for-profit (501(c)(3)) organization was formed to serve the needs of the growing Washington/Baltimore media production community. The mission of TIVA-DC is to connect the media production community to jobs, resources and educational opportunities in the National Capital region.
http://www.tivadc.org
This year, the DC Office of Cable Television, Film, Music & Entertainment has teamed up with the Virginia Film Office and Oz Publishing's Maryland Film and Video Dire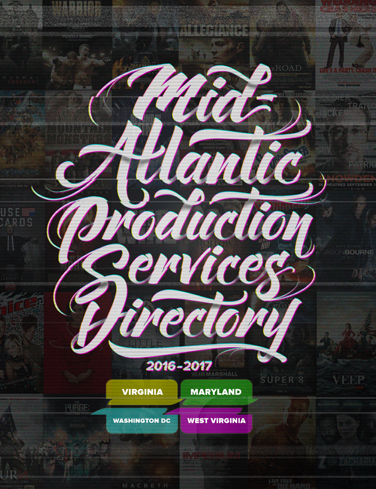 ctory again to produce the 2017 - 2018 Mid-Atlantic Production Services Directory.
The directory includes listings of pre-production resources, production staff and technical crew, producers and production companies, equipment and stages, post-production facilities, and support services.The 2015 Mid-Atlantic Production Directory can also be viewed online as an ebook . Free hard copies are now available at the Office of Cable Television, Film, Music & Entertainment.
Get Listed!
The DC Office of Cable Television, Film, Music & Entertainment is working again with Oz Publishing on a comprehensive directory for production professionals and businesses and we want to make sure you or your business is featured. Basic listings are available to freelancers, free of charge. The deadline for submission has passed for the print version of the 2015 directory; however, you can still get listed in the online version. Select this link to get listed online or contact Oz Publishing:
Oz Publishing, Inc.
Email: [email protected]
Phone: (404) 633-1779
Toll Free: (800) 705-1121
www.ozonline.tv