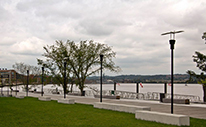 The DC Office of Cable Television, Film, Music & Entertainment is pleased to honor the Diamond Teague Park in Washington, DC as the June 2016 Location of the Month.
Diamond Teague Park in Southeast Washington's 6th Ward is a new 39,000 square-foot public plaza with water taxi and public piers on the Anacostia River adjacent to Nationals Park. The park is named in memory of an Earth Conservation Corps volunteer.
Diamond Teague Park is part of the larger "Capitol Riverfront" development, a 500-acre neighborhood that features one and a half miles of river frontage stretching north to the US Capitol.
Historically, the Capitol Riverfront was anchored by the Washington Navy Yard, the longest continually operating naval facility in the country. Today, the Capitol Riverfront has benefited from significant public and private sector investments. The neighborhood has seen over $1 billion in public investment that has leveraged over $2 billion of private sector investment to become a vibrant mixed-use community and riverfront destination.
Diamond Teague Park is conveniently located near the Navy Yard Metro, and within walking distance to Capitol South Metro and Eastern Market Metro. Some of the prominent landmarks near the park include the US Navy Yard, the US Department of Transportation Headquarters, Nationals Park, Capitol Quarter Townhouse community, Half Street entertainment district, and The Yards.
Diamond Teague Park is "film friendly" with an easy permitting process. However, some restrictions do apply during baseball season on game days, and there are special rules regarding access to the main commercial dock area.
To learn more about Diamond Teague Park and to view photos, please visit the Location of the Month feature on our web site. If you are interested in using Diamond Teague Park as a filming location, please contact us at [email protected].