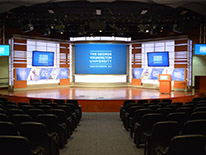 The DC Office of Cable Television, Film, Music and Entertainment recognizes the Jack Morton Auditorium as the August 2016 Location of the Month.
Jack Morton Auditorium, located at 805 21st Street NW in the Media and Public Affairs Building on the campus of George Washington University, is a fixed seat venue with the capacity to accommodate up to 244 people manage by GW's 'Events & Venues' facilities management team. The multi-use facility has two areas, theatre-styled indoor venue and an art gallery lobby.
The auditorium offers full TV production capabilities, digital sound, video recording, and video conferencing. Jack Morton Auditorium is an ideal location for filming current events/public affairs programming, cultural performances, documentary interviews, or narrative film scenes that require a theater setting/backdrop.
In addition to commercial filming, the art gallery and lobby space is also available to host small receptions. Maximum capacity for the art gallery lobby space is 36 for a theater style setup, 60 for a seated banquet setup, and 100 for a standing reception.
To learn more about the Jack Morton Auditorium and Art Gallery Lobby and to view photos, please visit the Location of the Month feature on the OCTFME website. If you are interested in using the Jack Morton Auditorium and Art Gallery Lobby as a filming location, please contact us at [email protected].