Distinctive edifice located on the National Mall recognized for striking architecture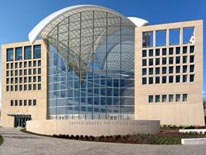 The DC Office of Motion Picture and Television Development is pleased to recognize the United States Institute of Peace headquarters in Northwest Washington as the May 2013 One City Location of the Month. The building has a unique, iconic but modern design, featuring glass paneling, asymmetrical lines, and an impressive grand atrium. The 150,000-sq-ft structure, which was completed in 2011, includes five stories of office space, a 230-seat theater, seven conference rooms and a 2,000-sq-ft outdoor terrace.
The United States Institute of Peace headquarters is located at the northwest corner of the National Mall at 23rd Street and Constitution Ave Northwest DC. This location features unique and dramatic views of the National Mall and several of Washington, DC's most recognizable, signature landmarks including the Lincoln, Vietnam Veterans and Korean War Veterans memorials. According to Washington Post reporter Roger Lewis, "Being near these war-related memorials is purposefully symbolic, as the institute's central peace-building mission is to help nations avoid war by managing and resolving international conflicts."
Designed by Moshe Safdie Architects, the LEED Gold building boasts an overarching, translucent glass roof and full-building-height glass walls where each atrium meets the structure's exterior façade and allows daylight to pour into the atrium. Conversely, at night, interior light fixtures present an aesthetically appealing scene as light travels through the building's large windows.
The Institute recognizes that the performing arts are an important tool of peace-building and can promote dialogue and share lessons learned. The headquarters building has hosted numerous screenings and discussions that bring together practitioners, policymakers, and academics. Through its Grants Program, USIP has funded such films as Budrus, The Pastor and the Imam, and Beatrice Mtetwa and the Rule of Law. The building also has captured the attention of HBO, the Motion Picture Association, Showtime Films, Newsweek and The Daily Beast for film screenings live webcasts, and other film related events.
In 2011, the DC Film Office launched its One City Location of the Month to bring attention to the wide range of varied, cinematically compelling locations that are available to film and television productions. Former One City Location of the Month recipients include Eastern Market in Southeast, the Atlas Performing Arts Center in Northeast, St Paul's Episcopal Church Rock Creek Parish in Northwest, and the Main Ave Fish Market in Southwest.
To learn more about the Institute of Peace and to view photos please visit the One City Location of the Month feature on our web site. If you are interested in using the Institute of Peace for a future filming location, please contact us at [email protected].