Recently renovated artisanal food market recognized for eclectic atmosphere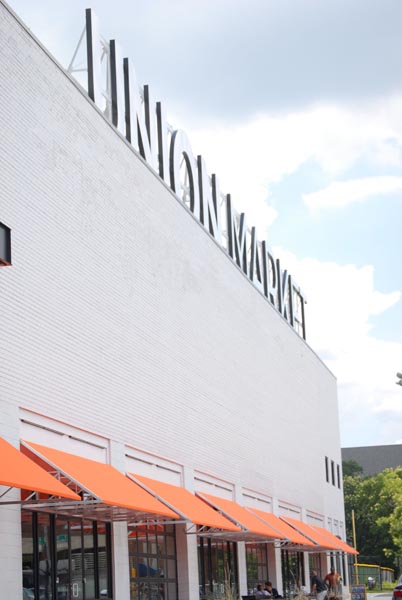 The DC Office of Motion Picture and Television Development is pleased to recognize Union Market in Northeast Washington as the August 2013 One City Location of the Month. The renovated 47,000-square-foot warehouse features more than 40 local artisanal vendors ranging from up and coming entrepreneurs to well know restaurateurs. Union Market has become the anchor of a rapidly developing corridor that is bringing a renewed spirit to the Northeast neighborhood, which will soon be home to a vibrant mix of retail, restaurants, hotel, and entertainment options. The farmer's market-like atmosphere combined with a touch of urban flair makes for a cinematically appealing location that represents the diversity and uniqueness of the District's many film-friendly venues.
Union Market is located approximately one mile from the U.S. Capitol and a few blocks from the New York Ave/Gallaudet University Metro Station on Fifth Street NE. The main hall of the Market is adorned with wide aisles and lots of natural sunlight from a long wall of windows and the open-space concept is punctuated by the occasional built-in counter for eating oysters or drinking artisanal sodas and spirits. Open year round, it has attracted an eclectic clientele from a wide variety of ethnic groups and diverse social-economic backgrounds since its opening in September 2012. EDENS, the retail developer that runs a number of plazas and shopping malls along the East Coast, is responsible for the Union Market renovations.
The unique fresh food market, formerly Union Terminal Market and Centre Market, has survived market shifts and an economic downturn that has spanned more than 200 years. Current vendors include Rappahannock Oysters Co.; Buffalo & Bergen created by well-known mixologist Gina Chersevani; an Amanda McClements' lifestyle boutique; Righteous Cheese; Peregrine Espresso; Lyon Bakery; Trickling Springs Creamery; Harvey's Market; Oh! Pickles; Almaala Farms; DC Empanadas; and TaKorean.
Union Market most recently became the home of the District's first drive-in movie experience. During July and August four D.C.-centric films are being featured on the large three-story wall on the building's façade. Created by D.C. Shorts Film Festival founder Jon Gann, the series recreates a throwback drive-in movie experience featuring pre-show festivities, live music, contests, special giveaways, and carhops.
In 2011, the DC Film Office launched One City Location of the Month to bring attention to the wide range of varied, cinematically compelling locations that are available to film and television productions. Former One City Location of the Month recipients include the US Institute of Peace in Northwest, the National Arboretum in Northeast, the Frederick Douglass Home in Southeast, and Arena Stage in Southwest.
To learn more about Union Market and to view photos, please visit the One City Location of the Month feature on our web site. If you are interested in using Union Market for a future filming location, please contact us at [email protected].