Thursday, September 1, 2011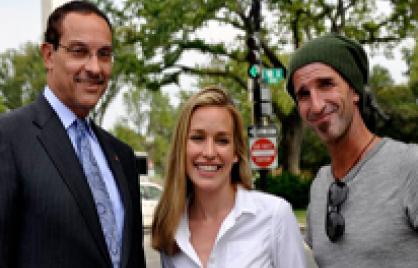 Covert Affairs, a one hour spy series on the USA Network, returned to the District this week for filming with lead star Piper Perabo (Coyote Ugly and Cheaper by the Dozen). The filming in the District will take place again mostly around the monuments and downtown DC, though additional scenes were shot in Southeast during the three-day shoot.
District of Columbia Mayor Vincent C. Gray will visit the set today outside of the Smithsonian Castle, where he will speak to Covert Affairs producers about filming more of the series in Washington, DC, where the show is based.
The show's first visit to the set this year took place at the end of July with Perabo and costar Christopher Gorham (Ugly Betty). Perabo plays a young CIA trainee, Annie Walker, who is unexpectedly promoted to work as a field operative at the Domestic Protection Division (DPD). Her cover story is that she works in Acquisitions at the Smithsonian Museum. The series is currently filming its second season.