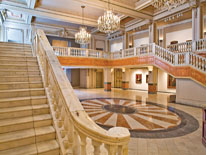 The DC Office of Motion Picture and Television Development is pleased to select the National Museum of Women in the Arts as the One City Location of the Month for July 2011. The National Museum of Women in the Arts (NMWA), which is located in the heart of downtown DC, is the only museum solely dedicated to celebrating women's achievements in the visual, performing, and literary arts.
The museum houses several diverse venues within the Renaissance Revival Building, which is a former 78,810 square ft. Masonic temple. The exterior façade incorporates both Tuscan and Mediterranean design elements, in addition to Masonic symbolism. In 1983, the museum purchased the building to house its nearly 4,000 piece collection and after extensive renovation, it opened on April 7, 1987. The project received several awards, including the American Institute of Architects' Prize for Excellence in Preservation of Historic Buildings. In 1997, the museum opened the Elizabeth A. Kasser Wing with an additional 5,300 square feet of adjacent property, which features the elegant Kasser Board Room.
The museum boasts a remarkable Grand Hall and Mezzanine featuring a white marble reception area and crystal chandelier adorned ballroom as well as an intimate performance hall theater and permanent collection gallery that offer diverse filming options for any production. The Great Hall was previously used for the critically acclaimed 2005 fan film Star Wars: Revelation. The nearly 200 seat Performance Hall/Theater has been used for a number of film related activities including the screening of dailies for Minority Report, a feature film shot in the District starring Tom Cruise and a variety of film festivals.
In March, the DC Film Office launched its One City Location of the Month to bring attention to the wide range of varied, cinematically compelling locations that are available to film and television productions. Former One City Location of the Month recipients this year include Ben's Chili Bowl in Northwest Washington, Arena Stage in Southwest Washington, the Hillcrest neighborhood in Southeast Washington and the Atlas Performing Arts Center in Northeast Washington.
To find out more about NMWA and to see photos, please visit the One City Location of the Month feature. If you are interested in using NMWA for a future filming location, please contact us at [email protected].