The Navy's flagship museum is recognized for one-of-a-kind interactive exhibits and naval artifacts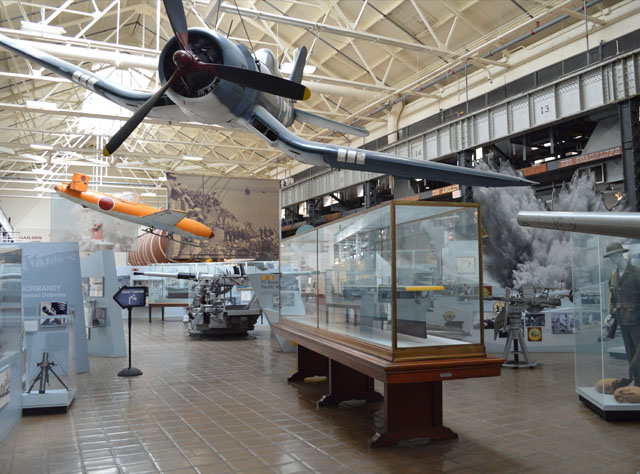 The DC Office of Motion Picture and Television Development is pleased to recognize the National Museum of the US Navy as the May 2015 Location of the Month.
Located in the historic Washington Navy Yard in Southeast DC, the National Museum of the US Navy was established in 1963 as the Navy's flagship museum. It is housed in the former, 600-foot-long Breech Mechanism shop of the old Naval Gun Factory and chronicles the history of the US Navy from the American Revolution to the present. As one of 14 Navy museums throughout the country, it is the only one that presents an overview of US naval history.
The Museum, operated by the Naval History and Heritage Command, is devoted to the display of naval artifacts, models, documents, and fine art. The interactive exhibits commemorate the US Navy's wartime heroes and battles as well as peacetime contributions in exploration, diplomacy, navigation, and humanitarian service. Tools, equipment and personal effects offer visitors a chance to learn more about naval history, customs and way of life. The Museum also oversees the Cold War Gallery, which commemorates the crucial role the United States Navy played in the high-stakes Cold War conflict.
A number of film and video projects have chosen the Museum as filming location. They include but are not limited to numerous CNN subject matter expert interviews with diving and salvage experts during the Malaysian Air disasters, an ABC News interview with Vice Chief of Naval Operations Admiral Michelle Howard and CSPAN coverage of a Q&A with former Senator and Secretary of the Navy John Warner.
In 2011, the DC Film Office launched the Location of the Month to bring attention to the wide range of varied, cinematically compelling locations that are available to film and television productions. Former Location of the Month recipients include the Georgia Avenue Business District in Northwest, the National Air and Space Museum in Southwest, the Deanwood neighborhood in Northeast, and Yards Park in Southeast.
To learn more about the National Museum of the US Navy and to view photos, please visit the Location of the Month feature on our website. If you are interested in using the Museum as a future filming location, please contact us at [email protected].