Friday, September 23, 2011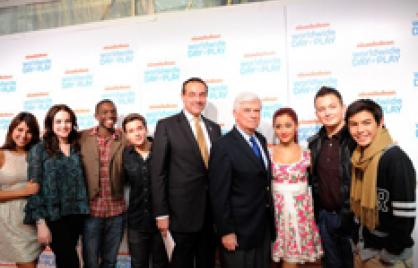 Today Mayor Vincent C. Gray will join Nickelodeon, Boys & Girls Clubs of America, President's Council on Fitness, Sports & Nutrition, and National Park Foundation, in celebrating Worldwide Day of Play and in ensuring that today's generation of kids becomes one of the healthiest. He will also proclaim September 24, 2011 "Worldwide Day of Play" in the District of Columbia.
Starting in 2005, Worldwide Day of Play is an annual event encouraging young people and families to turn off the television and participate in playful activities outdoors. The day is part of Nickelodeon's international, grassroots effort to get kids more physically active and to encourage positive, healthy, and playful lifestyles across the globe. As the rates of childhood obesity continue to rise at alarming rates and today's children and adults don't get as much physical activity as they should, Worldwide Day of Play empowers our youth to lead healthier lifestyles.
"The District of Columbia is committed to supporting our youth in becoming the healthiest generation and we are proud to partner with Nickelodeon on this very important effort," said Mayor Gray. "I call upon the good people of the District of Columbia to join me in recognizing all those associated with making this endeavor a reality, and wishing them all the very best in the future."
This year, Nickelodeon brings Worldwide Day of Play to Washington, DC, where thousands of young people and their families will gather on the Ellipse in President's Park for a day of family-friendly activities hosted by the best in professional and youth sports, health and wellness and community partners. Nickelodeon stars, Victoria Justice, Keke Palmer, Nathan Kress, Jennette McCurdy will be among those in attendance and guests will enjoy special live performances by Big Time Rush and Fresh Beat Band.