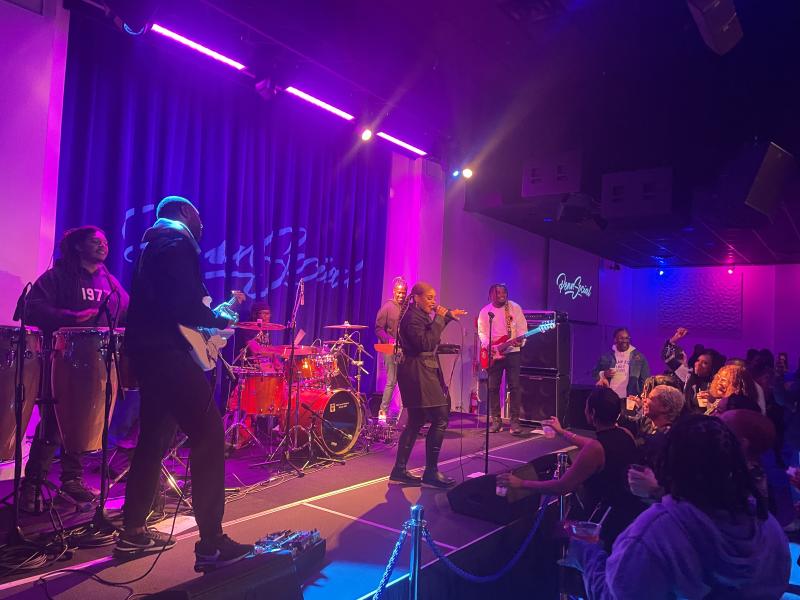 (Washington, DC) – There are many hidden gems throughout DC that await residents and visitors to rediscover. Mayor Muriel Bowser and The DC Office of Cable Television, Film, Music, and Entertainment (OCTFME) are pleased to recognize the August 2023 Location of the Month, Penn Social. This staple hidden gem was newly renovated into a state-of-the-art venue. One of the advantages Penn Social has by being a premier music venue is the in-house production capabilities are second-to-none.
"Congratulations to Penn Social! We applaud Penn Social's dedication to creating a vibrant and unforgettable experience for all visitors. Penn Social's creativity and commitment truly bring the spirit of DC to life, inspiring all who enter to rediscover DC," says Director LaToya Foster.
The main event space is a 10,000-square-foot room with three mechanically activated projection screens, an expandable stage, theatrical lighting as well as Ketra house lighting. The main PA system utilizes Martin Torus Constant Curvature arrays driven by a Yamaha CL5 digital console. The entire venue is DANTE-enabled to achieve a fully customizable audio network. They've also installed an Elan 4K Video over IP distribution system so your content can be viewed in countless ways. With a custom-tuned PA system and digital video distribution system all managed by their amazing production staff, any event will have all the technological bells and whistles one can possibly imagine.
"We are honored to be featured as the Office of Cable Television, Film, Music, and Entertainment August location of the month. Penn Social has been a film location in the past and is excited to provide a location for media productions in the future," says General Manager Robert Hess.

Film Friendly:
Yes

Film Credit(s):
Brew Talks CBC 2017 (Live Stream)
B1G Live Satellite Broadcast - 2017
48 Hour Film Festival - Several Occasions
Bulwark Podcast in 2022 and (Multi-track audio recording)
Story District in 2022 and 2023 (Line out for Cameras)
Split Zone Duo in 2023 for multi-track audio recording w/live audience
360 Walkthrough:
CLICK HERE
Drone Video:
CLICK HERE
Social Media Handles:
Twitter and Instagram: @PennSocialDC
Facebook: facebook.com/PennSocialDC
Relevant Websites:
About Location of the Month
The "Location of the Month" initiative is part of the agency's mission to market and support District locales as media production locations and bring attention to the wide range of cinematically compelling locations available to film and television productions.

If you have a suggestion for a future OCTFME "Location of the Month," we would love to hear from you. If you own or manage a business, venue, or location you would like to be featured as a "Location of the Month," or if you are a filmmaker or a fan of local filmmaking with a suggestion for a unique DC location, OCTFME could feature in the future "Location of the Month" please use this nomination form and tell us all about it.
About OCTFME
The Office of Cable Television, Film, Music and Entertainment (OCTFME), an award-winning District of Columbia Government agency, leads the city's extensive efforts to build and support a sustainable film, music, and entertainment creative economy and labor market. Additionally, OCTFME serves as the city's cable television service provider regulator and as the customer service hub for cable subscribers.
OCTFME's extensive portfolio includes:
The District's government cable access channels District Council Channel (DCC), the District of Columbia Network (DCN), and the District Knowledge Network (DKN).
DC Radio (96.3 HD4), OCTFME's owned and operated digital radio station, in partnership with Howard University's WHUR.
District of Columbia Entertainment Network (DCE), OCTFME's 24-hour streaming platform available worldwide on ROKU, Apple TV, and Amazon Fire TV as well as iPhone and Android mobile devices (download the DCE Network App or at DCENetwork.com).
The handling of all of the District's filmmaker production needs including permits, city services, and logistical support, job placement assistance, workforce development and the DC Film, Television, and Entertainment Rebate Fund (DC Rebate Fund).
Providing additional support to the creative community through the Creative Affairs Office (CAO) and Mayor Muriel Bowser Presents: 202Creates initiative. CAO showcases and preserves the District of Columbia's rich creative communities throughout all 8 Wards.
For more on OCTFME: (202) 671-0066 or www.entertainment.dc.gov. Follow OCTFME on Facebook.com/entertaindc, Instagram.com/entertain_dc, Twitter.com/entertain_dc and TikTok/entertain_dc.
###