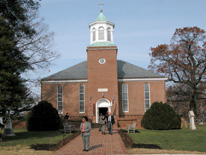 St Pauls Episcopal Church Rock Creek Parish Honored as Location of the Month
The DC Office of Motion Picture and Television Development is pleased to select St. Paul's Episcopal Church, Rock Creek Parish as the August One City Location of the Month. St. Paul's Episcopal Church, founded in 1712, is one of the oldest buildings in continuous use in the city and the location of a number of famous monuments and sculptures. The intimate church structure seats up to 175 people, lending itself to a smaller church scene for film or television production.
Predating the founding of Washington, D.C., the original setting of the church is the 100 acre churchyard (Rock Creek Cemetery), which is the burial place of many people who have played a major role in the evolution of the city and the nation. Among those buried there include:
Abraham Baldwin, a signer of the U.S. Constitution; David Burnes, one of the original proprietors from whom land was acquired for the nation's capital; John Lenthall, one of the early builders of the U.S. Capitol Building; William J. Stone, noted engraver of the Declaration of Independence; Patricia Roberts Harris, Ambassador to Luxembourg under President Lyndon B. Johnson and Secretary of Housing and Urban Development for President Jimmy Carter; and Henry Adams, journalist, author, historian, and grandson of John Quincy Adams, 6th President of the United States. The Adams Memorial (a masterpiece of Augustus Saint Gaudens) has attracted worldwide attention and admiration.
The church architecture has been described as colonial, though some of the original structure has changed since the time of its founding. A major fire in 1921 necessitated rebuilding and the current church building was completely renovated in 2004. The 2004 renovation included the installment of the Dobson Organ, the addition of a marble floor, and a colonial pulpit and tester. The parish hall, St. Paul's Center, is a large, separate building that was renovated in 2003 adding an administrative wing, and an updated concert space, the Great Hall. The administrative wing has since been remodeled to accommodate a Montessori School opening in September 2011.
In March, the DC Film Office launched its One City Location of the Month to bring attention to the wide range of varied, cinematically compelling locations that are available to film and television productions. Former One City Location of the Month recipients this year include Ben's Chili Bowl, Arena Stage at the Mead Center for American Theater, the Hillcrest neighborhood in Southeast Washington, the Atlas Performing Arts Center, and the National Museum of Women in the Arts.
To learn more about St Paul's and to view photos please visit the One City Location of the Month feature on our web site. If you are interested in using St. Paul's for a future filming location, please contact us at [email protected].