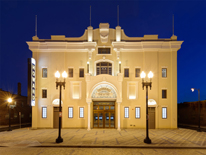 The DC Office of Motion Picture and Television Development is pleased to honor The Howard Theatre in Northwest as the April 2012 One City Location of the Month. This newly renovated historic landmark in the District, which reopens this month, features its original regal façade, combining elements of Beaux Arts, Italian Renaissance and neoclassical design. The new Howard Theatre, which features a two-tiered design that seats up to 700 people and allows standing for up to 1,000, serves as a multi-purpose venue that makes it an ideal location for a diverse array of film and television productions.
Once known as "The Theatre for the People," the Howard Theatre first opened in 1910 in the District's Shaw neighborhood near the corner of 7th and T Streets, NW. The theater, which housed 1200 seats, was considered the "largest colored theater in the world," and hosted a number of vaudeville acts, live theater, musicals and local talent shows every week. Such music greats ranging from Duke Ellington, Ella Fitzgerald and Billy Eckstine to Marvin Gaye, Aretha Franklin and the Supremes launched their careers and graced the stage over several decades before the theatre closed its doors in 1980.
A groundbreaking ceremony held September 2, 2010 launched the restoration of The Howard Theatre and the beginning of a top-to-bottom $29 million renovation by the Ellis Development Group. The revitalized Howard Theatre features, supper club-style seating, state-of-the-art acoustics, advanced video and recording capabilities, and large light-box images of luminaries who have graced the stage. The Howard Theatre Restoration, Inc. also plans to build the Howard Theatre Culture and Education Center, which will feature a museum, classrooms, a listening library and recording studios.
The Howard Theatre Grand Opening Gala and Tribute Concert will be held on Thursday, April 12, 2012 and will feature performances or appearances by Smokey Robinson, Dick Gregory, Al Jarreau, Martha Reeves, and Berry Gordy, among others. The Howard Theatre Restoration, Inc. and the City will ensure that the theatre is open six days a week, year-round, with dining amenities and opportunities for a variety of uses.
In 2011, the DC Film Office launched its One City Location of the Month to bring attention to the wide range of varied, cinematically compelling locations that are available to film and television productions. Former One City Location of the Month recipients include the Hillcrest neighborhood in Southeast, Gallaudet University in Northeast, Ben's Chili Bowl in Northwest, and Arena Stage in Southwest.
To learn more about The Howard Theatre and to view photos please visit the One City Location of the Month feature on our website. If you are interested in using the Howard Theatre for a future filming location, please contact us at [email protected].