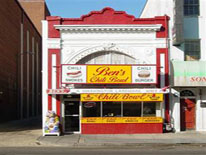 The District of Columbia Office of Motion Picture and Television Development is proud to present Ben's Chili Bowl as the One City Location of the Month for March. The iconic local business and landmark, with its signature facade, unique signage and distinctive homey interior makes it a compelling location option for a filmmaker or production company that requires a location with one-of-a-kind local charm and character.
Ben's is known for their signature chili and half smokes (a Washington area signature regional street food). The brainchild of husband and wife team Ben and Virginia Ali, Ben's Chili Bowl was founded in a renovated former silent movie house and pool hall in 1958 at 1213 U Street, NW. Over the years Ben's became a signature U Street corridor business. Top African American performers could be found eating and just "hanging out" at Ben's. It was not uncommon to see such luminaries as Duke Ellington, Miles Davis, Ella Fitzgerald, Dick Gregory, Martin Luther King Jr., or Bill Cosby at "The Bowl." More recent notable visitors include: President Barack Obama, Chris Rock, and Russell Crowe.
Ben's Chili Bowl has been used as a location for several motion pictures, television shows, commercials, documentaries and music videos. Ben's Chili Bowl features a public seating and back kitchen area totaling approximately 3000 square feet, with high ceilings and an additional 400 square feet of storage space.
One of the most recognizable eating establishments in the District of Columbia, Ben's Chili Bowl, as much as any local business, epitomizes the unique character and personality of Washington, DC.
If you are interested in using Ben's Chili Bowl for a future filming location, please contact us at [email protected]
Please see below productions shot at Ben's Chili Bowl:
Films
State of Play
The Pelican Brief
Talk to Me
Jazz In The Diamond District
Breakfast at Ben's (short)
Music Videos
J. Holiday video "Be With Me"
Wale ft. Lady Gaga video "Chillin"
TV shows
Anthony Bourdain's No Reservations
Man v. Food
Samantha Brown's Passport to Great Weekends
Roker on the Road
The Daily Show
60 Minutes
World News Tonight
This Old House
The Today Show
Good Morning America
CBS Sunday Morning
Meet the Press
TV Commercials
DC Lottery (featuring Chuck Brown)
DC Vote Campaigns
DC Auto Show
I am DC campaign
Independent We Stand
Think Local First
PBS, CNN, FOX, BBC, and BET Networks have also used Ben's Chili Bowl as a location.