Thursday, August 17, 2023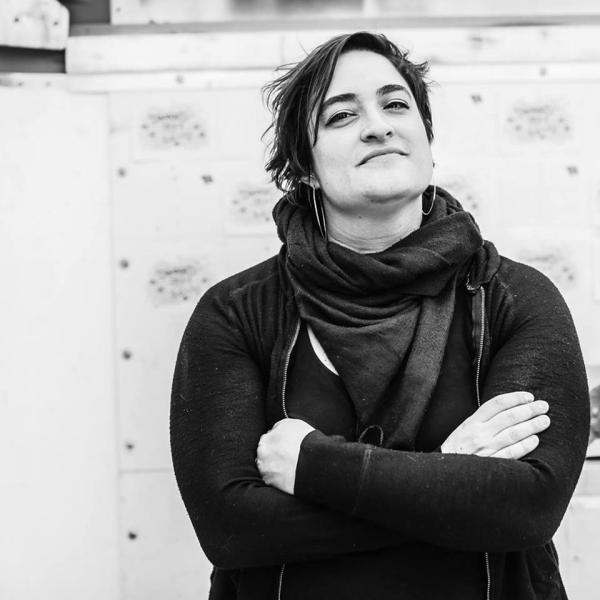 (Washington, DC) – Mayor Muriel Bowser and The DC Office of Cable Television, Film, Music, and Entertainment (OCTFME) are pleased to recognize AMY ODEN as the August 2023 Filmmaker of the Month.
"Congratulations to Amy Oden. As a producer and director, Amy's visionary storytelling and exceptional craftsmanship have captivated audiences worldwide and presented thought-provoking content," says Director LaToya Foster.
As a multiple Emmy award-winning producer and director, Amy currently leads the video team at the Human Rights Campaign, where she produces and supervises the production of video content advocating for the LGBTQ+ community. Prior to this role, she was a senior producer and manager of multiplatform strategy at Maryland Public Television. Her latest independent short, LIPSTICK AND LEATHER is distributed by PBS's Reel South, and some of her other recent work was granted a fellowship at Johns Hopkins (Baltimore, MD). In addition to multiple Emmys her work has won Communicator, Davey, and W3 Awards.
"This is a great boost to my career as an independent and queer-focused media maker in DC, being recognized as OCTFME's August Filmmaker of the Month - I am a mid-career professional, aiming to make strides for the visibility of my community in the area, and across the country," says Amy.
Amy is currently in the festival circuit working on a short film about seahorse dads called FATHERHOOD. Amy also screened a short film called LUCIE AND ANNIE in the PBS Online Film Festival this summer. She is also currently in post-production on a 20-minute short film about a local drag artist and her historic fellowship at the Kennedy Center.
A graduate of the University of Maryland College Park, Amy earned a BA in broadcast journalism, and later an MA in gender and media from George Washington University. Her interest in media began with a media-centric high school program, the Communication Arts Program, at Montgomery Blair High School in Silver Spring. She began telling stories through moving images at the age of 16 years old when she discovered what a powerful medium it could be.
University of Maryland (College Park, MD)
George Washington University (Washington, DC)
Montgomery Blair High School (Silver Spring, MD)
Film Credits:
Lipstick and Leather: Documentary short, funded by Culhanimal Productions. Distributed on PBS's Reel South.
Calasag: Documentary short, fiscally sponsored by the Independent Documentary Association
Exotic: Feature documentary, funded through Kickstarter. Available on Amazon Prime and through Action! Library Media.
From the Back of the Room: Feature documentary. Included in the Rock and Roll Hall of Fame. Available through MVD.
CORTINA PRODUCTIONS; MCLEAN, VA
Managed production and content of mobile multimedia projects for a United States Presidential Library. Supervised staff (3).
THE COSTA REPORT; NEW YORK, NY
Booked high-profile guests, including Reverend Jesse Jackson, Louis Farrakhan, and T. Boone Pickens, for a radio show.

Awards & Certifications:
2022: Emmy Award for Dei – Program Feature/Segment
2021: Emmy Award for Historical/Cultural – Long Form Content
Davey Gold Award for Campaign & Series – Public Service & Activism
W3 Silver Award for General Video – Public Service/Activism
2020: Communicator Award of Distinction – Campaign/Web Series, Online Video
Communicator Award of Distinction – Individual/Social Responsibility, Online Video
Finalist, Baker Artist Awards
Exhibitor, Baltimore Museum of Art Screening Room
2019: Emmy Nominee for Historic/Cultural – Program Feature/Segment
W3 Silver Award in Online Video Public Service/Activism
2018: Emmy Award for Health/Science – Program Feature/Segment
Davey Gold Award for Technology/Science Online Video and Davey Silver Award For
Public Service/Activism Online Video
W3 Silver Award in Online Video Public Service/Activism and Technology/Science
Cynopsis Social Good Award Nominee for Tv Series or Special Programming
2017: Davey Silver Award for Documentary Online Film/Video and Nature/Wildlife
2016: Davey Silver Award for Online Film/Video Public Service and Activism
W3 Silver Award in Online Video Activism and Online Video Doc/Pub Service
2015: Hometown Video Awardee For "Underserved Voices" (Alliance for Community Media)
Relevant Websites:
www.filmsbyamyoden.com
Social Media:
IG: @filmsbyamyoden
###
AMY ODEN DC RADIO INTERVIEW
Want to learn more about Amy Oden and her work? Click HERE to listen to her DC Radio interview.
###
About FILMMAKER OF THE MONTH
The Office of Cable Television, Film, Music, and Entertainment (OCTFME) launched the "Filmmaker of the Month" initiative as a vehicle for highlighting the talents and creative contributions of filmmakers that make the District of Columbia their home. The "Filmmaker of the Month" initiative is part of OCTFME's mission to elevate the national and international profile of the District's talented filmmakers.
***If you know of a filmmaker that would make a great future "Filmmaker of the Month," you can send OCTFME your recommendations using this nomination form.
About OCTFME
The Office of Cable Television, Film, Music and Entertainment (OCTFME), an award-winning District of Columbia Government agency, leads the city's extensive efforts to build and support a sustainable film, music, and entertainment creative economy and labor market. Additionally, OCTFME serves as the city's cable television service provider regulator and as the customer service hub for cable subscribers.
OCTFME's extensive portfolio includes:
The District's government cable access channels District Council Channel (DCC), the District of Columbia Network (DCN), and the District Knowledge Network (DKN).
DC Radio (96.3 HD4), OCTFME's owned and operated digital radio station, in partnership with Howard University's WHUR.
District of Columbia Entertainment Network (DCE), OCTFME's 24-hour streaming platform available worldwide on ROKU, Apple TV, and Amazon Fire TV as well as iPhone and Android mobile devices (download the DCE Network App or at DCENetwork.com).
The handling of all of the District's filmmaker production needs including permits, city services, and logistical support, job placement assistance, workforce development and the DC Film, Television, and Entertainment Rebate Fund (DC Rebate Fund).
Providing additional support to the creative community through the Creative Affairs Office (CAO) and Mayor Muriel Bowser Presents: 202Creates initiative. CAO showcases and preserves the District of Columbia's rich creative communities throughout all 8 Wards.
For more on OCTFME: (202) 671-0066 or www.entertainment.dc.gov. Follow OCTFME on Facebook.com/entertaindc, Instagram.com/entertain_dc, Twitter.com/entertain_dc and TikTok/entertain_dc.
###