Thursday, February 16, 2017
Looking to volunteer at one of the areas largest films festivals? Here you go!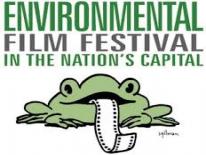 This year's Environmental Film Festival in the Nation's Capital (March 14-26) is very excited welcome volunteers to the event! Visit the website at https://timecounts.org/dceff and click the link to join. All of the planning and film selecting and hospitality depends on YOU -- the engine that drives the machine and they are looking for volunteers for this important event.
There are so many new and exciting changes in store — including a new rewards-based Volunteer Program that honors your time and commitment with on-site snacks, restaurant and coffee vouchers — and a few major prize packages that include invitations to studio sneak peek screenings, special museum tours, and gift cards to area retailers.
The film festival is also implementing a new 1:1 work/watch program: for every volunteer shift you complete, you will receive one voucher to watch selected films during the festival, or at one of our year-round events.
The festival is using a new online software system to join the Volunteer Community. Again, visit the website at https://timecounts.org/dceff and click the link to join. You will receive an email to confirm your participation — please follow the instructions to do so. Once your application has been reviewed, you will be able to access the complete schedule, where you may sign up for as many shifts as you wish. There is no minimum number of shifts — take one or 10.
Please visit www.dceff.org for more information about the Environmental Film Festival.