Thursday, February 10, 2011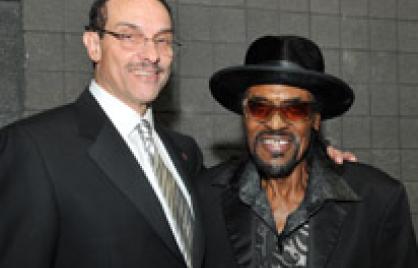 Mayor Gray and The Office of Motion Picture and Television Development congratulate District legend Chuck Brown for making history with his first trip to the Grammy Awards.
This Sunday, February 13, go-go legend Chuck Brown will be making his first appearance at the Grammy Awards ceremony as a nominee. Chuck Brown, who is affectionately known as the Godfather and founder of go-go music, is nominated for Best R&B Performance by a Duo or Group with Vocals for the song "Love." The song is a collaboration piece with Grammy-award winning R&B artist Jill Scott and Jazz musician Marcus Miller.
Brown uses the Nation's Capital as the back drop for a number of his music videos, including the 2007 hit "Block Party," and has said that his greatest inspiration for his music has been the city itself. Mayor Vincent C. Gray, a longtime fan and friend of Brown, stated, "Chuck Brown pioneered the only musical genre to originate in this city and I am thrilled to see him receive this recognition. The District is proud to celebrate this honor with him."
Over the past 40 years Chuck Brown has recorded more than 20 albums and sold 1.5 million albums. His biggest album to date was the classic "Bustin' Loose," which went gold and featured the title song that is now used by the Washington Nationals as a home run celebration song, was sampled by popular rapper Nelly for his number one hit "Hot in Herre," and was used for a Chips Ahoy national television campaign last year.
Last year Brown made his late night television debut performing with the Roots on Late Night with Jimmy Fallon and he gave a halftime show during a Redskins regular season game. At this year's Grammy awards ceremony he will be competing with Chris Brown & Tank for "Take My Time," Ronald Isley & Aretha Franklin for "You've Got A Friend," John Legend & The Roots for "Shine" and Sade for "Soldier Of Love."