Thursday, November 1, 2012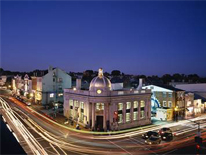 DC Film Office Recognizes Georgetown as One City Location of the Month
The D.C. Office of Motion Picture and Television Development is pleased to recognize Georgetown in Northwest Washington as the November 2012 One City Location of the Month. An iconic neighborhood situated on the Potomac River waterfront, Georgetown is a perfect balance of old and new. With stunning 18th and 19th century architecture, quaint cobblestone streets, distinctive brick and frame row houses, and a picturesque retail and entertainment corridor, the neighborhood serves as one of most visually diverse and cinematically appealing locations our nation's capital has to offer.
Georgetown is comprised of a commercial and entertainment district and a residential community located in northwest Washington, DC Bordered by the Potomac River to the south, it is bounded by Rock Creek to the east, Glover Park to the north, and Georgetown University on the west end of the neighborhood. The primary commercial corridors of Georgetown are M Street and Wisconsin Avenue and the Washington Harbour waterfront running along K Street and Water Street.
Federalist architecture, cobblestone streets and multimillion dollar mansions dating back to the mid-1700s define the historic neighborhood. It is home to the prestigious Georgetown University and numerous other landmarks, such as the C&O Canal and the gold-domed stand-alone building, which now houses PNC Bank but formerly served as the old Farmers and Mechanics Bank. The recently redeveloped Georgetown Waterfront Park provides a combination of green space, water fountains, and pathways along the Potomac River, offering stunning views of Roosevelt Island and the Key Bridge that connects the District to Rosslyn, Virginia.
Founded in 1751, Georgetown predates Washington by 40 years. It originated as a tobacco port town in Maryland and housed a lumber yard, a cement works, and the Washington Flour Mill. Two of Washington's oldest buildings still remain—the City Tavern Club and the Old Stone House, which is the oldest unchanged building in Washington. The neighborhood also was home to a long list of famous residents including former US Presidents Thomas Jefferson and John F. Kennedy.
Georgetown has been the silent star in a number of feature films and television productions including The Exorcist, No Way Out, True Lies, The Patriot, Enemy of the State, Minority Report, Wedding Crashers, and the television series The West Wing.
In 2011, the DC Film Office launched its One City Location of the Month to bring attention to the wide range of varied, cinematically compelling locations that are available to film and television productions. Former One City Location of the Month recipients include Arena Stage in Southwest, the Anacostia Library in Southeast, the National Museum of Women in the Arts in Northwest, and the National Arboretum in Northeast.
To learn more about Georgetown and to view photos please visit the One City Location of the Month feature on our web site. If you are interested in using Georgetown for a future filming location, please contact us at [email protected].