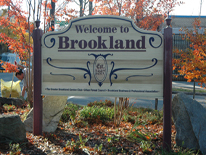 The DC Office of Motion Picture and Television Development is pleased to honor the Brookland neighborhood as the October 2011 One City Location of the Month. Brookland is one of the most diverse neighborhoods in the city, offering a unique combination of business, artistic, religious and residential communities all wrapped into one.
The Brookland community is bound by Michigan Avenue to the North, South Dakota Avenue to the East, Rhode Island Avenue to the South and 9th Street to the West. Brookland's commercial district, which mostly consists of the thriving businesses along 12th Street, was built during the Art Deco era and offers a unique backdrop against the single family homes and row houses that adorn the area. Brookland's residential architecture ranges from Queen Anne style homes on 14th Street to Victorian cottages represented on Otis Street.
Brookland has been nicknamed "Little Rome" due to the area's numerous Catholic institutions that offer interesting architectural models and religious sculpture. In addition to Catholic University, the neighborhood's more than 60 Catholic institutions include the stunning Franciscan Monastery, the beautiful Pope John Paul II Cultural Center, and the grand Basilica of the National Shrine of the Immaculate Conception. The National Shrine's 329 foot tall tower makes it the second tallest building in the District.
The Dance Place, which serves as the hub of the arts community in Brookland, houses a world-class dance school and a neighborhood cultural center that boasts a 40-week presenting season. The arts community of Brookland continues to expand rapidly with the addition of a new "Arts Walk" and "Artspace Lofts" that will include 41 affordable live/work units for artists and their families with gallery and studio space. Construction is set to begin before the end of the year.
Brookland offers a rich history and background with historic residences such as the Ralph Bunche house on Jackson Street and The Brooks Mansion on Newton Street still remaining today. The history of the Brookland neighborhood is the topic of a new book by John F. Feeley Jr. and Rosie Dempseyas part of Arcadia Publishing's Images of America series, which was recently featured in The Washington Post.
In March, the DC Film Office launched its One City Location of the Month to bring attention to the wide range of varied, cinematically compelling locations that are available to film and television productions. Former One City Location of the Month recipients this year include Ben's Chili Bowl, Arena Stage at the Mead Center for American Theater, the Hillcrest neighborhood in Southeast Washington, the Atlas Performing Arts Center, the National Museum of Women in the Arts, St. Paul's Episcopal Church, Rock Creek Parrish, and The Yards Park in Southeast.
To learn more about the Brookland neighborhood and to view photos please visit the One City Location of the Month feature on our web site. If you are interested in using Brookland for a future filming location, please contact us at [email protected].