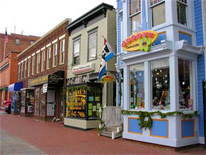 The DC Office of Motion Picture and Television Development is pleased to recognize Barracks Row in Southeast Washington as the October 2012 One City Location of the Month. One of the oldest retail corridors in the District, Barracks Row is home to more than 30 restaurants and outdoor cafes as well as dozens of professional offices and independent stores making this one of the many ideal filming locations the nation's capital has to offer.
Barracks Row is located eight blocks east of the US Capitol on 8th Street SE. It was the first commercial center in the District according to Barracks Row Main Street, the public-private group managing the revitalization of corridor. The group focuses on the five blocks of 8th Street that stretch south from Pennsylvania Ave SE to the end of 8th Street at the Washington Navy Yard along M Street, SE.
The Capitol Hill commercial district includes a pedestrian-friendly strip starting at D Street, a short distance from Eastern Market, and runs south to M Street where a number of restaurants and professional offices adorn the block. The corridor received its name due to the fact that part of the stretch is across from the barracks that house Marines, whose duties now are purely ceremonial. As part of the revitalization efforts in 2002, the city planted American elm trees along the corridor and installed iron streetlights known as Washington globes to give it its distinct look and feel.
In addition to service retailers like hair and pet grooming salons, a few offbeat shops like Backstage Inc., which sells musical scores and vampire wigs, and a knitting-supply store called Stitch DC also inhabit this revitalized corridor. Barracks Row also houses the Navy Yard Car Barn, a 100,000 square foot historic building that was constructed in the late 1800's as a car barn for the trolley line and is known locally now as "The Blue Castle." The property, which is located at the intersection of 8th and M Streets, is steps away from the Washington Nationals stadium and is across the street from the Navy Yard.
In 2011, the D.C. Film Office launched its One City Location of the Month to bring attention to the wide range of varied, cinematically compelling locations that are available to film and television productions. Former One City Location of the Month recipients include the Bellevue neighborhood in Southwest, the Anacostia Riverwalk in Southeast, the Howard Theatre in Northwest, and the Brookland neighborhood in Northeast.
To learn more about Barracks Row and to view photos please visit the One City Location of the Month feature on our website. If you are interested in using Barracks Row for a future filming location, please contact us at [email protected].