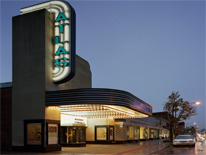 The DC Office of Motion Picture and Television Development is pleased to honor the Atlas Performing Arts Center as the One City Location of the Month for June 2011. The Atlas Performing Arts Center (The Atlas) is located in a renovated Art Deco movie theatre, which has been given new life as a state-of-the-art 21st century arts center. Located in the heart of the rapidly revitalizing H Street Northeast Arts and Entertainment District, more commonly called the Atlas District, The Atlas has been the catalyst for change and rebirth in this once-neglected area.
The Atlas, the only community-based performing arts center in Washington, is a 59,000 square ft. facility with a variety of settings suitable for filming. The Lang Theatre is a 260 fixed seat proscenium auditorium and the Sprenger theatre is a large flexible seat black box that can be used for events and performances. There are two smaller Lab theatres, three dance studios, several dressing rooms, and a spacious modern lobby area that offers a diverse array of filming options.
The Atlas was built in 1938 as a movie theatre originally part of the DC-based K-B Chain of movie houses in the H Street Northeast neighborhood. The neighborhood, which was a thriving commercial district in the early-mid twentieth century, fell into decline following the riots of 1968 causing business and residents to migrate to other areas of the city. The Atlas Movie Theater eventually followed suit and closed its doors in 1978. In 2001, The Atlas Performing Arts Center nonprofit purchased the property and brought it back to life, an act that sparked the ongoing revitalization of the neighborhood. In November 2006, the Atlas formally reopened its doors after four years of renovation.
Today, The Atlas presents innovative, thought-provoking performances, and provides arts education opportunities for DC's near Northeast community. The Atlas' restored Art Moderne marquee once again has become a landmark of H Street, now a nightlife destination for eclectic dining, music and the performing arts.
In March, the DC Film Office launched its One City Location of the Month to bring attention to the wide range of varied, cinematically compelling locations that are available to film and television productions. Former One City Location of the Month recipients this year include Ben's Chili Bowl in Northwest Washington, Arena Stage in Southwest Washington, and the Hillcrest neighborhood in Southeast Washington.
To find out more about The Atlas and to see photos of the new building please visit the One City Location of the Month feature. If you are interested in using The Atlas for a future filming location, please contact us at [email protected].