Wednesday, August 1, 2012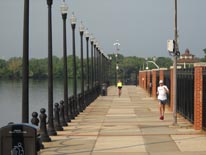 The DC Office of Motion Picture and Television Development is pleased to recognize the Anacostia Riverwalk Trail as the August 2012 One City Location of the Month. The trail, which connects residents and visitors to some of the District's most treasured commercial and recreational destinations, serves as the backbone to the Anacostia Waterfront. The expansive biking and walking trail weaves through four of the city's eight wards, offering breathtaking panoramic views of the nation's capital that are ideal for a range of filming opportunities.
From the Tidal Basin to the city's northeast border with Maryland, the Riverwalk Trail is helping transform the shorelines of the Anacostia River into a world-class waterfront. Ultimately, the trail will provide seamless, scenic travel for pedestrians and bicyclists along the river to the Fish Market, Nationals Park, Historic Anacostia, RFK Stadium, the National Arboretum and 16 communities between the National Mall at the Tidal Basin and Bladensburg Marina Park in Maryland. Currently, 12 of the projected 20 miles of the Riverwalk Trail are open and heavily used.
By the end of the year, the District anticipates opening a second fiberglass bridge east of the river which will complete trail connections on both sides of the river from South Capitol Street to Benning Road. Design of the Kenilworth Gardens segment, which will extend the trail from Benning Road to the Bladensburg Trail in Maryland, is to conclude by the end of 2012.
Key design elements throughout the trail include: inclusion of rain gardens and bioswales; installation of shared-use paths and educational signage; enhancement of trail viewsheds to bring users closer to the water's edge; and minimization of impacts of paving on other trail infrastructure on the natural environment.
The Anacostia Riverwalk Trail is one of a series of transportation, environmental, economic, community and recreation projects included in the District of Columbia's larger 30 year, $10 billion Anacostia Waterfront Initiative, or AWI Program. The program is led by the District of Columbia government and embraced by 19 regional and federal agency partners.
In 2011, the DC Film Office launched its One City Location of the Month to bring attention to the wide range of varied, cinematically compelling locations that are available to film and television productions. Former One City Location of the Month recipients include, St. Paul's Episcopal Church, Rock Creek Parish in Northwest; the National Arboretum in Northeast, Arena Stage in Southwest, and the Hillcrest neighborhood in Southeast.
To learn more about the Anacostia Riverwalk Trail and to view photos please visit the One City Location of the Month feature on our website. If you are interested in using the Anacostia Riverwalk Trail for a future filming location, please contact us at [email protected].