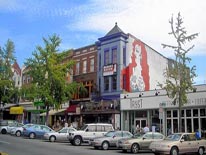 The DC Office of Motion Picture and Television Development is pleased to honor the Adams Morgan neighborhood in Northwest as the January 2012 One City Location of the Month. Long appreciated as one of the District's most multicultural neighborhoods, Adams Morgan is a vibrant community of artists, activists and entrepreneurs. It is always abuzz with colorful storefronts, friendly sidewalk cafes, restaurants with diverse cuisine from countries around the world, intimate coffee shops and some of Washington's liveliest nightspots.
Adams Morgan is nestled between Dupont Circle and Columbia Heights, bounded by Florida Ave, Connecticut Ave, Harvard, and U Street, with many interesting historic structures throughout and a commercial area centered on 18th Street and Columbia Rd. It is also a neighborhood known as much for its charming Victorian row houses as it is for the ethnic restaurants and bright murals. The Adams Morgan we know today is now the legacy of elite colonial families, Jewish merchants, liberal activists, transportation planners and revolutionaries. The neighborhood was named for DC's first segregated schools, the all-black Thomas P. Morgan Elementary School and the all-white John Quincy Adams Elementary School.
The neighborhood is filled with dozens of independently owned businesses, offering great restaurants, lounges, live music and amazing boutique shopping—all of which make Adams Morgan a regional attraction. Moving beyond the murals of the main commercial corridor, turn-of the-century homes and new residential condo developments are magnets for the steady stream of young families and professionals in search of the perfect multicultural, urban lifestyle.
Adams Morgan has served as the backdrop for recent feature film How Do You Know? starring Reese Witherspoon and Jack Nicholson and local independent feature released earlier this year, Adams Morgan: The Movie. In addition to recruiting local talent in the form of actors, musicians and the film crew, Adams Morgan: The Movie was shot entirely on location. Familiar landmarks and venues, such as the Toulouse-Lautrec mural, Smash Records, La Fourchette, Perry's Restaurant, Meskerem Ethiopian Restaurant and Chief Ike's Mambo Room were featured in the film.
In March, the DC Film Office launched its One City Location of the Month to bring attention to the wide range of varied, cinematically compelling locations that are available to film and television productions. Former One City Location of the Month recipients this year include the Yards Park in Southeast, the Brookland neighborhood in Northeast, the National Museum of Women in the Arts in Northwest, and the Maine Ave. Fish Market in Southwest.
To learn more about Adams Morgan and to view photos, please visit the One City Location of the Month feature. If you are interested in using Adams Morgan for a future filming location, please contact us at [email protected].