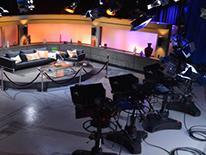 OCTFME has two production studios and each of the two studios is supported by a production control room with separate audio control rooms.

Studio A is used for in-studio production of OCTFME's original programs, live cablecasts of special features, and other long form programs. The studio has 4,800 square feet of space and boasts 18' feet ceilings. The studio is large enough to accommodate multiple sets simultaneously and has a large green screen. The studio and control room are set-up for high definition (HD) video production. The facility features 5 Ikegami cameras equipped with a prompting system. A lighting system is mostly made up of energy-efficient LED light fixtures and can light as many sets as necessary. Wired and wireless mic systems are in place to support all types of audio production and the facility is also equipped with a digital matrix intercom and IFB system. The studio also utilizes a telephone interface system for shows that require guest call-in or interviews. From the studio, OCTFME is able to produce live, as well as recorded programs, ranging from one-on-one interviews to live musical performances.

Studio B is currently utilized for temporary production capability. The studio is 1,530 square feet with 13' feet ceiling height.